Expert Attic Insulation Contractor for Connecticut Homeowners
Upgrading attic insulation is a "once-and-done" improvement that quickly pays for itself in energy savings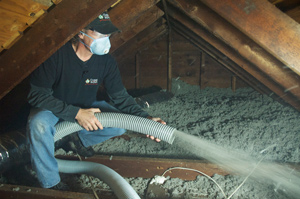 Affordable upgrade. Cellulose insulation is often used in attics because it can be installed quickly and effectively with blowing equipment. Cellullose is super-green: It's made from recycled newspapers and treated for resistance to fire, mold and insects.
It's a fact: Most houses have comfort and energy problems because of inadequate attic insulation. Today the U.S. Dept. of Energy recommends that homes in Connecticut have between R-49 and R-60 of attic insulation. That's at least 16 in. of cellulose or fiberglass insulation. Yet many houses have only 6 in. of attic insulation --just R-19 or so.
High utility bills, plus rooms that are too cold in the winter and too hot in the summer
If your attic isn't adequately insulated, you're probably facing the triple whammy mentioned above. Fortunately, all three of these problems can be solved if you have Dr. Energy Saver upgrade your attic insulation. Improving attic insulation is one of the most affordable, cost-effective improvements you can make. Rooms that used to be too hot or too cold at certain times of year will now be as comfortable as other parts of your house. Plus you'll cut your heating and cooling costs by as much as 20%.
One the most efficient ways to insulate an attic is with spray foam insulation. Spray foam insulation is extremely versitile and easy to apply on the decking of a roof. Since we use expanding spray foam in attics, it is easier for us to get those hard to reach spots and create a more effective seal which will prevent air from leaking out of your home.
Select the best attic insulation strategy for your home
Dr. Energy Saver is an expert contractor who provides customized attic insulation solutions; we don't use a "one size fits all" approach. Depending on your home's design and features and on the way you use your attic, we can offer a number of attic insulation options, including the following:
Blow-in insulation using cellulose or fiberglass.
Insulated catwalks and storage platforms where limited access to attic areas is necessary.
SuperAttic® insulation upgrade to create a conditioned attic using SilverGlo® rigid foam insulation.
Spray foam attic insulation to create a conditioned attic.
Dr. Energy Saver Of Connecticut is your trusted contractor for home insulation in CT. We provide attic insulation in Norwalk, Danbury, Stamford, Greenwich, New Haven, Hartford as well as the surrounding areas of Darien, New Canaan, Westport, West Hartford, Ridgefield, Hamden, and surrounding cities and towns.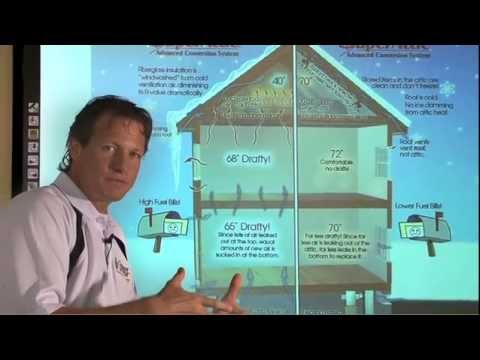 Super Attic - Attic Insulation System
The new Supper Attic, attic insulation system helps you save money and energy by elimination energy loss...
Watch Video
Recent Insulation Videos
IMPORTANT! Sealing air leaks goes together with an attic insulation upgrade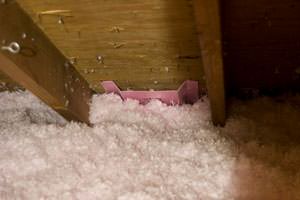 DETAILS MAKE A DIFFERENCE!
Baffles keep ventilation channels open. Plastic spacers are installed between rafters in the attic to maintain a vent space beneath the roof surface after new insulation is installed.
Be careful when selecting a contractor to upgrade your attic insulation. Some contractors install just one kind of insulation, so they can't provide you with a range of insulation choices to match your home and budget requirements. Other contractors won't take the time to properly air-seal your attic before installing new insulation.
Insulation without air-sealing is malpractice! To get the benefit of an attic insulation upgrade, it's critical to seal leaks around recessed lights, chimneys, vent pipes, and other gaps or openings that allow conditioned air from your living space to leak into your attic.
Dr. Energy Saver has the trained contractors and special equipment to properly air-seal your attic in advance of an insulation upgrade.
Air-sealing is a critical step. Before installing new attic insulation, it's necessary to seal attic air leaks to stop conditioned interior air from leaking into the attic. Dr. Energy Saver uses a variety of materials and techniques to stop this energy-wasting air leakage.
Installing baffles ensures proper attic ventilation. Sized to fit between the rafters in the attic, plastic baffles maintain a ventilation space between the attic's soffit vents (located along the eaves) and the ridge vent. Installing baffles before adding more attic insulation helps avoid damage from ice dams and excess moisture.
Old insulation can be reused most of the time. As long as the existing insulation is not wet, moldy or overly compressed, it can usually be put back into place after the attic has been air-sealed and before new insulation is installed.
Start Saving Energy and Money With An Attic Insulation Upgrade.
Call 1-888-532-9120 or contact us online for a free home energy evaluation and insulation estimate.
Providing attic insulation in Stamford, Greenwich, Hartford, Norwalk, Danbury, New Haven, and the surrounding areas of Cheshire, Milford, Trumbull, Shelton, Bridgeport, Waterbury, Manchester, New Britain, Bristol, Meriden, Glastonbury, Monroe, Stratford, and more.
Looking for a price? Get a no cost, no obligation free estimate.