Connecticut Crawl Space Insulation for Warm Floors
Insulation, installed correctly, will increase your Connecticut home's comfort level, decrease utility bills, and help keep mold, pests, and moisture at bay.
In this video, Dr. Energy Saver solves home comfort problems caused by an unsealed, uninsulated crawl space. Watch to see how to make your crawl space more energy efficient!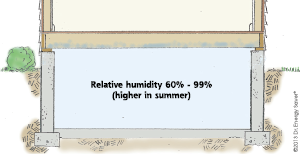 Crawl spaces, especially those with dirt floors or moisture problems, are wet in summer and cold in winter! Foundation wall and crawl space floor insulation can solve all that!
Crawl space air-sealing and insulation are more important than most homeowners believe. As a result, they experience discomfort and pay higher energy bills than necessary -- sometimes for many years.
Contact Dr. Energy Saver Connecticut to help you solve your crawl space insulation problems. Our trained installers can recommend the right types of insulation for your crawl space.
Signs of crawl space insulation problems
The floor above the crawl space is unpleasantly cold in wintertime.
During cold weather, the furnace must work hard to keep rooms directly above the crawl space comfortable.
Evidence of mice or other pests in fiberglass insulation between joists.
Fiberglass batt insulation has fallen out of place from between floor joists.
Moldy odor or mold is visible on framing.
The crawl space is damp all the time.
Crawl space insulation done wrong: fiberglass batts installed between joists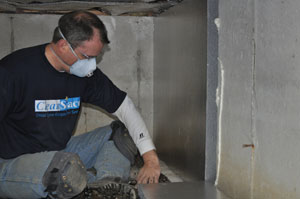 Looking good & lasting long. Rigid foam insulation can't be damaged by moisture and won't degrade in appearance or R-value over time. In a crawl space, it's usually installed against the interior face of foundation walls.
The old-fashioned way to insulate a crawl space was to install fiberglass batt insulation between joists and vent the crawl space so outside air could circulate beneath the house.
Unfortunately, this combination usually leads to the problems listed above. Fiberglass insulation doesn't respond well to the moist conditions that can be found in a crawl space.
The cotton-like material absorbs moisture, gets soggy, compresses and loses R-value. Weighted down by moisture, fiberglass batts often end up on the crawl space floor in a soggy mess.
The main advantage of fiberglass insulation –low cost — is totally negated when the material ceases to perform its main function.
Benefits of Rigid Foam Crawl Space Insulation
Stable and reliable. Unlike fiberglass insulation, rigid foam won't compress, fall out of place or lose its R-value over time. It's definitely a "once-and-done" improvement.
Effective air sealing. When joints between foam panels are taped, rigid foam stops air leaks that can waste energy. Fiberglass insulation can't stop air movement.
Moisture-proof. Rigid foam won't absorb moisture or be damaged by it.
Unfriendly to mold. Mold can't take hold on rigid foam because it contains no organic food source and it doesn't hold moisture.
Better ductwork performance. Ducts located in the crawl space become more effective at moving warm air once crawl space walls are insulated.
Crawl space insulation done right: rigid foam panels installed against crawl space walls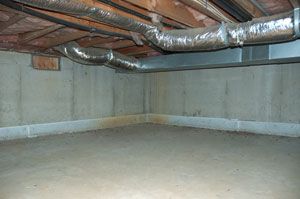 Uninsulated crawl spaces cause icy floors above and energy loss through ducts. Air handlers located in crawl spaces must work much harder.
Rigid foam insulation performs much better than fiberglass in a crawl space. This type of insulation is manufactured in panels of different thicknesses. Installers cut the panels to fit against the interior face of crawl space foundation walls. Panels are secured with adhesive or mechanical fasteners.
Insulating a crawl space with rigid foam is often done as part of the crawl space encapsulation process –a treatment that building scientists recommend. Crawl space encapsulation effectively seals your crawl space from the exterior with a tough vinyl liner, giving you control over the environment beneath your living space.
Although rigid foam insulation costs more than fiberglass insulation, it's less expensive when you consider that you'll never have to re-insulate again. Rigid foam will deliver the same performance and benefits in 15 years as it does on day #1.
Contact Us For
A Free Estimate
Privacy Statement: Your information will be kept confidential and will not be shared with any third parties.
Why Homeowners Choose Us for Crawl Space Insulation
Crawl space encapsulation seals unfinished crawl spaces
warrantied solution for lasting health and cleanliness
Better energy efficiency and warmer first-level floors
Start Saving Energy and Money With A Crawl Space and Basement Insulation Upgrade.
Call 1-888-532-9120 or contact us online to schedule Free Estimate for basement or crawl space insulation in Hartford, New Haven, Greenwich, Norwalk, Danbury, Stamford, and nearby including New Canaan, Westport, Darien, Ridgefield, Hamden, West Hartford, Cheshire, Milford, Trumbull, Shelton, Bridgeport, Waterbury, Manchester, New Britain, Bristol, Meriden, Glastonbury, Monroe, Stratford, and more.
We also offer a comprehensive home energy evaluation, which we use to fully diagnose the causes of your home's energy issues.
Looking for a price? Get a no cost, no obligation free estimate.