Low-e Glass for Replacement Windows in Connecticut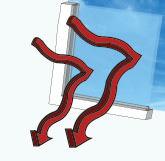 Most of us have heard about "low-e glass," which is used in both new and replacement windows. Low-e technology has been used on windows since the mid-1970s, and every major window and door manufacturer offers low-e glass on their products.

If you're in the market for replacement windows or exterior doors that contain insulated glass, it's smart to get up to speed on how low-emissivity films work, what the difference is between "hard-coat" and "soft-coat" versions, and how to make sure your new glass qualifies for different rebate programs.
Energy Efficient Replacement Windows in Connecticut
Contact us today to schedule your Free Estimate for energy efficient windows in Stamford, Norwalk, Hartford, New Haven, Danbury, Greenwich, Darien, New Canaan, Westport, West Hartford, Ridgefield, Hamden, and the surrounding areas!
Let's get started with the benefits of low-e glass:
Improved energy efficiency. This is a big deal, since windows can be responsible for 25% of a home's wintertime heat loss. In addition to reducing heat loss during winter months, low-e glass also reduces heat gain during the cooling season.
Less UV damage. By blocking most ultraviolet (UV) radiation, low-e glass helps protect fabrics, leather, carpeting, artwork and finishes from the fading effects of sunlight.
Reduced condensation. Condensation on window glass can be a problem during the heating season, as warm air comes into contact with cold window glass and gives up its moisture, forming water droplets on the glass surface. Low-e glass will minimize or eliminate this unwanted condensation.
Rebates on windows & doors. If you install new or replacement windows and/or doors that are ENERGY STAR® qualified (which include low-e glass), you may be eligible for a tax credit. Dr. Energy Saver can provide you with the most up-to-date information on tax credits for energy-saving home improvements.
How Low-e Works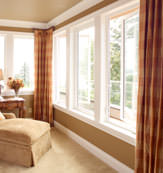 The "e" in low-e stands for emissivity —the ability to emit radiant energy. A dark asphalt driveway has a high e-factor; it will absorb and emit a great deal of heat. A low-e coating emits almost no radiant energy. The coating is actually an invisible metal or metallic oxide film that's deposited on the surface of the glass during or after the manufacturing process. This microscopic layer allows light (short-wave energy) to penetrate the glass, but blocks most ultraviolet (UV) long-wave energy, which we feel as heat. Here's how low-e windows improve energy efficiency during summer and winter months:
Winter mode. Light is admitted through the glass, but heat from interior spaces is reflected back into the house interior by the low-e coating.
Summer mode. Light is admitted through the glass, but heat from outside is reflected, helping to reduce cooling costs.
Start Saving Energy and Money With A Low-e Glass Window Upgrade.
Call 1-855-201-5406 or contact us online to schedule a free home inspection and Low-e glass window estimate. We also offer a comprehensive home energy evaluation.
Looking for a price? Get a no cost, no obligation free estimate.